Rotating Cam Limit Switch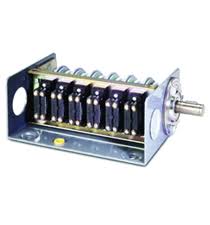 Gemco 1980 Series Rotating Cam Limit Switches precisely control the limits of rotary motion expressed in shaft rotation, either through a roller chain, gear train, or directly. The device was developed to use for heavy duty material handling mechanisms, mechanical presses, packaging machines, rotary table, and many applications where accurate, repetitive, sequential operations are required in control circuitry.
The Gemco Rotating Cam Limit Switch makes it possible to open or close independent circuits at desired angular position of the input shaft. Closed circuits or open circuits from 4 to 356 degrees are possible without the use of special cams. The cam settings can be adjusted at any angular position of the cam shaft. No tools are necessary to adjust cam settings!
The 1980 series is available in NEMA Type 1, NEMA Type 4 & 5, NEMA 7 , NEMA 9, and NEMA12 molded enclosures and can be ordered wotj 2 tp 40 circuits.
Featuring:
Precision Cam adjustment at any angular position of the camshaft.
Speeds from 0 to 500 RPM in either direction
No special Cams required for any contact setting from 4 to 356 degrees.
No tools required to adjust Cam setting.
Accurate repeatability.
GEMCO rugged duty precision snap action switches.
UL recognized switches under file E56660.
Options:
Straight Drive and Right Angle Gear Reducers
Timing Dial and Timing Dial Windows
Double Ended Shafts
Special Shaft extension and keyway
Resolvers, Encoders or Potentiometers driven off the Camshaft
Heaters and Thermostats
Adjustable Coupling
Special Conduit Openings
Special Cams and Large 6" Metal Cams for Higher Resolution
Add-A-Cam Feature
Stainless Steel--NEMA 4X
Usually ships 10 - 15 working days after receipt of order
Gemco rotating cam limit switches are built to order, and are not returnable. If you have any questions about using this product in your application, please do not hesitate to call or email us.