How-To Setup a B/W Controls Conductive Level Control System
Common Applications
Typically there are three electrodes in a tank, a high level, a low level, and a ground. However, a conductive tank itself may be used for a ground instead, requiring only two electrodes for this configuration.
A pump-down configuration will wait until the water level reaches the top, then pump it down until it reaches the middle electrode.
A pump-up configuration will begin to pump up when the water level drops below the middle electrode, then shut off when it reaches the top electrode.
Types of B/W Controls Relays
1500 Series Induction Relay

Contacts rated for up to 1HP
Rugged and reliable
Available in many configurations, and configurable

5200 Series Solid State Relay

Low and High Sensitivity Sensitivity Variations
Can be used for long-distance sensing applications, where the electrodes are far away
Capable of much higher sensitivity applications
Sensitivity resistance is set with a resistor, or with an optional potentiometer

5600 Series Solid State Relay

Fixed sensitivity
Low cost and low energy usage
Compact
Choosing a B/W Controls 1500 Relay
These are often an existing system, in which case, it's probably best to simply replace the old one with a drop-in replacement. Additionally, the 1500 Series is a direct functional replacement for the discontinued Warrick Series 1 Relays. However, if you're creating a new system, there are many options.
Decoding Catalog Numbers
Catalog numbers are relatively logically laid out, as follows: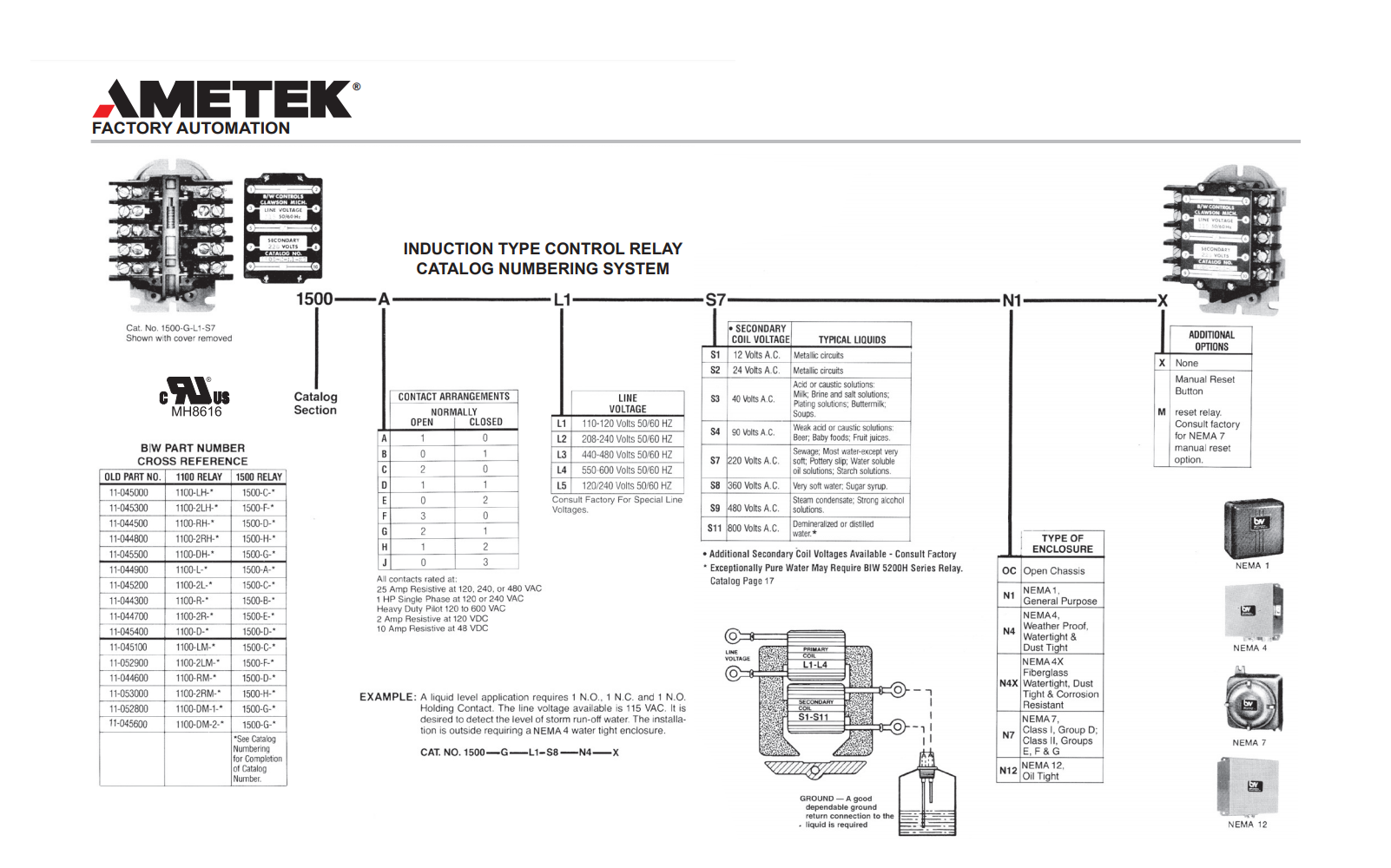 1500 Series
Contact Configuration
Line Voltage
Secondary Voltage (Sensing Voltage)
Enclosure Type
Manual Latching
Contact Configuration
There are three positions, top, middle, and bottom. The bottom position is often reserved for the sensing circuit.
A - One normally open contact

i.e. high level signal control or low level cutoff

B - One normally closed contact

i.e. low level alarm or high level cutoff

C - Two normally open contacts

i.e. pump-down configurations

D - One normally open, one normally closed contact

i.e. pump-up configurations

G - Two normally open, one normally closed contact

Allows for pump-up or pump-down (not simultaneously)

F - Three normally open contacts

i.e. High level alarm with multiple contacts

H - One normally open, two normally closed contacts

i.e. Pump-up configurations with capability to break both legs of a 250V circuit
Line Voltage
Used to power the sensing circuit. Select to match the voltage that is available:
L1 - 120V
L2 - 240V
L3 - 480V
Secondary Coil Voltage
Determines the sensing voltage going through the fluid. Determined by the liquid being used in the system
S1 (12V) - Metallic circuits (i.e. float switch or microswitch)
S2 (24V) - Same as above
S3 (40V) - Acid or caustic solutions. milk, brine and salt solutions, plating solutions, buttermilk, soups, etc.
S4 (90V) - Very conductive substances; weak acid or caustic solutions, beer, baby foods, fruit juices, etc.
S7 (220V) - Waste/hard water, sewage, pottery slip, water soluble oil solutions, starch solutions, etc.

220V is often best for waste water, or generally water with high a high mineral content.

S8 (360V) - Soft water, sugar syrup, etc.

360V is often more versatile, as it will generally work fine for hard water, but can also accommodate most soft water. For this reason, we often recommend the S8 for those unsure of mineral content.

S9 (480V) - Steam condensate, strong alcohol solutions, etc.

480V will also work for condensate, or water systems with very little dissolved mineral content, but we wouldn't recommend it unless it is known to be necessary for the application.

For lower conductivity substances, we recommend a Solid State (5200 Series) relay, as it will almost certainly give better results.
Enclosure type
We stock all relays without the enclosure, and offer the enclosures separately.
OC: Open Chassis; no enclosure
N1 - NEMA 1: Personnel protection
N4 - NEMA 4: Painted Steel enclosure; water-tight
N4x - NEMA 4x: Fiberglass Reinforced Polyester; corrosion resistant and water-tight
N7 - NEMA 7
Manual Reset
X - None
M - Manual Reset: Comes in an enclosure with a manual reset button, so that once the relay atuates, it will not reset until the button is pressed. These are special order.
Electrodes
Solid Rod Electrodes
Solid rod electrodes are typically used with electrode plugs and B/W Controls E-Series Holders.
The most common is the bare stainless rod, with a 1/4-20 thread. This is the "A" configuration.
They're also available with a PVC or Teflon coating.

You can tell the difference between PVC and Teflon coating because the B/W controls PVC coating is black, while the Teflon coating is white.

"6B" style internal thread rods are also available for sue with molded nylon holders.
Wire Suspension Electrodes
Wire suspension electrodes are popular because they offer flexible mounting options, and because they tend to be less expensive than solid rod electrodes in longer lengths.
6013-W6 - 304 Stainless steel electrode with a 9/16" molded plastic shield.

This is the most popular wire suspension electrode.
Compact in size, making them ideal for tight space applications like well casings.
Also available with a brass electrode.
Field-assembled

6013-W2 - 304 Stainless steel electrode with 1 7/16" plastic shield.

If space is available, we recommend this larger electrode. It can offer better performance and longevity.
Available unshielded for applications where there's not enough space; however, care must be taken that the electrode does not contact any other conductive surfaces, like the side of the tank.
Also available as the 6013-W1 in brass.
Field-assembled

6013-W7 - Pre-assembled 316 Stainless steel electrode

Good choice where corrosion resistance is critical.
Length of wire is included from the factory.
Electrode Holders
Holders for Solid Rod Electrodes
6012-E Series

Pressure-tight holder that holds anywhere from 1 to 7 electrodes.
Mounts via a 1" to 3" NPT thread depending on the number of electrodes held.
Comes in cast iron, brass, or stainless steel.
Uses electrode plugs to hold the electrodes. The electrode screws onto the bottom of the electrode plug, maintaining the pressure-tight enclosure.

6012-EP1 - The most common electrode plug. Good for high pressure and high temperature applications.
6012-EP2 - Similar to the EP1, but has a glass and teflon seal that's better for stainless steel holders.
6012-EP3 - This has a teflon base, and is a bit less expensive, but does not have the high pressure or high temperature ratings.

6012-CE Series - Molded nylon electrode holder
Holders for Wire Suspension Electrodes
6012-CG - Cord-grip style electrode holder
Conduit-Style Electrode Holders - Good for drainage sumps and open tanks

6012-C4I

Holds up to four (4) wire suspension electrodes
Cast iron
1/2" NPT thread for mounting to conduit

6012-C4P

Holds up to four (4) wire suspension electrodes
PVC construction
1/2" Conduit-style mount using PVC cement

6012-C8P

Holds up to eight (8) wire suspension electrodes
PVC construction
1" Conduit-style mount using PVC cement
Flange-Mount Electrode Holders
Non-Pressure Applications
Comes either blank or pre-drilled for electrodes
A similar cast iron version, the e553, is also available.
Pressurized Applications
If you need a flange-mount holder for a pressurized application, we recommend using the 6012-E Series along with a flange adapter.
Troubleshooting
Other Liquid Level Control Technologies:
Float
Submersible
Ultrasonic
RF/Capacitive